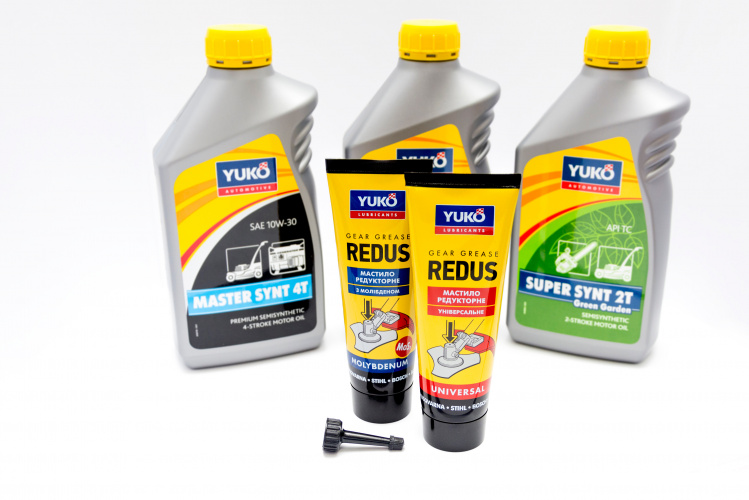 The range of YUKO lubricants is very wide. A car or a large vehicle fleet, a small workshop or an industrial production - YUKO products meet any needs in oils and greases. Maintenance and operation of garden equipment is no exception. The trade mark YUKO introduced 2 new products in this category.
YUKO REDUS UNIVERSAL - is a universal grease is intended for gearboxes and internal moving parts of power tools, garden equipment and other mechanisms, equipment that works at high loads and temperatures. This lubricant is excellent for household lawn mowers and trimmers service.
YUKO REDUS MOLYBDENUM - is a special antiwear waterproof grease with molybdenum disulfide (MoS2) developed specially for high-speed garden machinery gearboxes. It is also used for lubrication of moving parts of reducers, cross-pieces, cardan joints, which work under conditions of vibration, extreme high and shock loads. The product is intended for professional use in harsh conditions and for long processing.
New greases are packaged in 100gram tubes. Each tube is equipped with a removable nose-applicator for convenient apply.
New products complement the "YUKO garden series" for garden, park and power equipment: YUKO MASTER SYNT 4T, SUPER SYNT 2T, and YUKO PILAN - oil for chain saws. These products have become the bestsellers in the Ukrainian and export markets. We are confident, that new greases will help our customers to keep their business and equipment in great condition.
YUKO REDUS MOLYBDENUM and YUKO REDUS UNIVERSAL will get to retail stores till the end of July.